These two 18 hole courses present the golfer with no two similar holes. Originally designed as an 18 hole facility, Pryor Creek Golf Club has gone through several changes throughout its existence. When the course was initially laid out, the creek itself was rerouted to intermingle through the middle holes of the North Course more effectively. The current back nine on the original course used to play as the front nine when the course opened in the summer of 1981. In 1992, a third nine was added, making it a total of 27 holes. And finally, in 2007, the fourth nine was completed and opened, effectively making Pryor Creek the only 36 hole facility closer than 500 miles from Billings.
Currently, the two golf courses are known as the Elmer Link Course and the Johnny Walker Course. Each will test the shot-making abilities of every level of golfer, but still could yield a low score. The Penncross Bentgrass greens are good sized, slightly undulating, and putt very true. Kentucky Bluegrass tees and fairways are neatly manicured to ensure playability for everyone. Bunkers are scattered throughout the course and also guard a number of greens. Please don't hesitate to take a closer look at each of these courses by clicking on the course details link below.
Pryor Creek Golf Club was awarded the 2004, 2005, 2018, and 2019 'Billings Gazette/Readers Choice – Best Golf Course'. Also, we serve as host for numerous corporate golf tournaments throughout the season and tee off approximately 50,000 rounds per year.
Elmer Link Course
More commonly known as the North-West or Old Course to the longstanding members, the private Elmer Link Course is the original 18 hole course at Pryor Creek.
Johnny Walker Course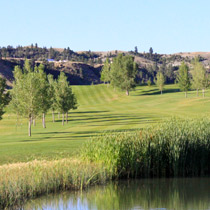 Also referred to as the South Course, the original nine holes of the Walker Course opened in July of 1992.